Operating environment
Musti Group (Musti) operates in the Nordic pet care market, broadly defined as the sale of pet food, treats, products, services and veterinary care across Finland, Sweden and Norway. According to Euromonitor, the market is estimated to be worth approximately EUR 2.8 billion, with Sweden as the largest market, accounting for approximately EUR 1.2 billion, and Finland and Norway estimated to be similar in size, at approximately EUR 820 million and approximately EUR 790 million respectively.
The market is expected to grow at around 4 percent CAGR (Compound Annual Growth Rate) to 2023 at which point it is estimated that the total Nordic pet care market will be worth approximately EUR 3.4 billion.1 The Nordic pet population is expected to continue growing at CAGR of 0.7 percent to 5.4 million pets in 2023 (3.2 million cats and 2.2 million dogs).
The rise of "Pet Parenting" refers to the increasing tendency of people to treat their pets like family members. As a result of this trend, people are spending more on higher quality and more premium food, as well as a more diverse range of products and services. Musti believes it is able to continue its strong performance, as it is focused on the high-quality products and services the Pet Parents seek.
The pet care market is resilient, underpinned by non-discretionary purchasing behaviour. Non-discretionary categories such as food, cat litter and veterinary services make up approximately 76 percent of total market spend and are characterised by repeat purchasing behaviour that is consistent through the cycle. Consumers display a willingness to sustain spend on pet care through economic downturns, preferring to cut expenditure on alternative spend categories.
1 Source: A study ordered by Musti from an international consulting company.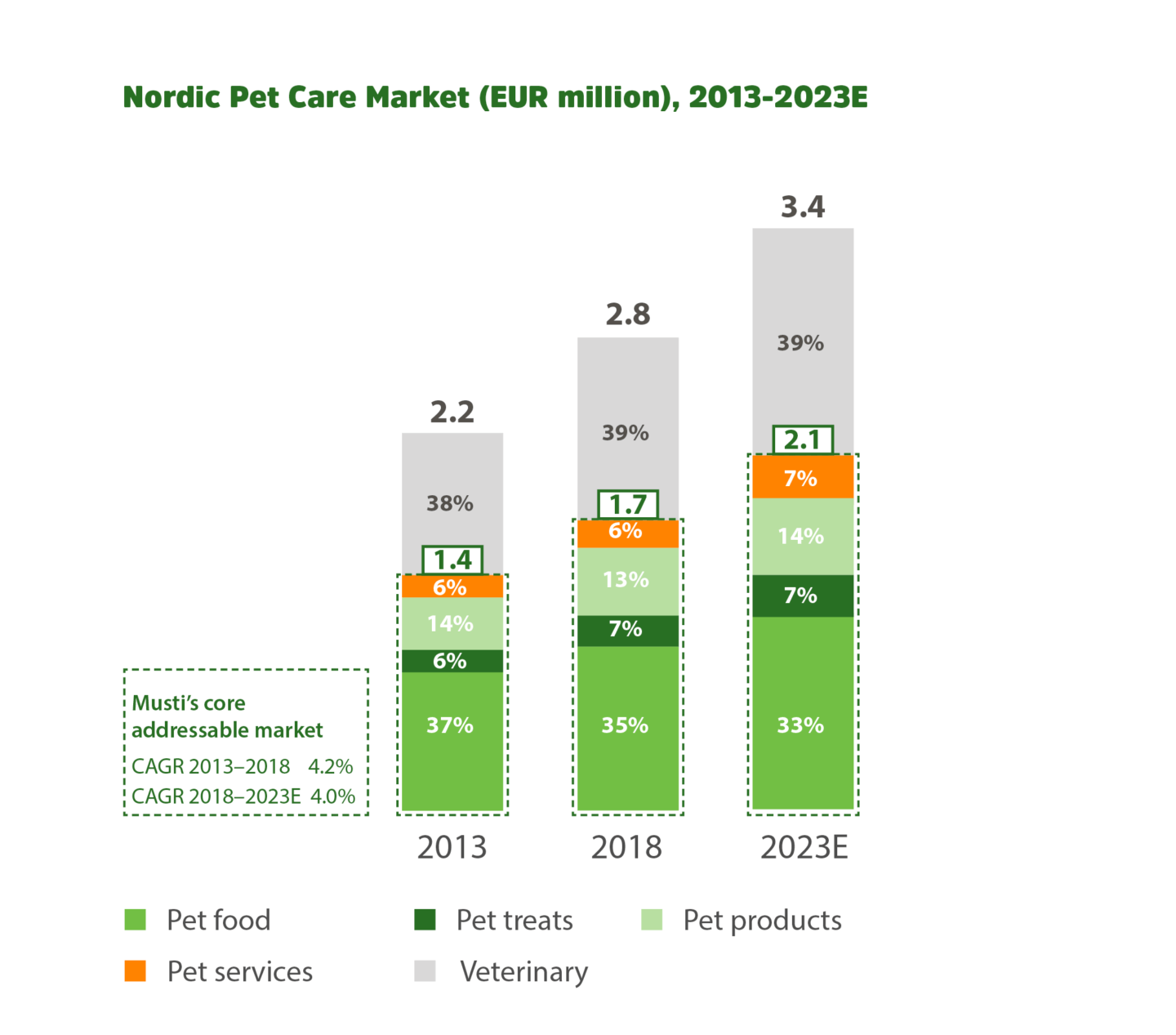 Trends in the Nordic pet care market