Satisfied employees foster a culture of belonging
Musti Group has over 1,500 experts across the Nordic countries putting their heart into their work every day. As an employer we want to take good care of the well-being of our own pack.
We value feedback and want to keep up to date on how our pack is doing. Therefore, we organize a yearly employee survey and several pulse surveys throughout the year. We also support continuous dialogue between managers and employees.
We have taken part in the Great Place to Work survey since 2017 and have had great results throughout the years. In 2021, 77% of the respondents said that Musti is a great place to work. Our employee well-being is also reflected in high employee satisfaction levels.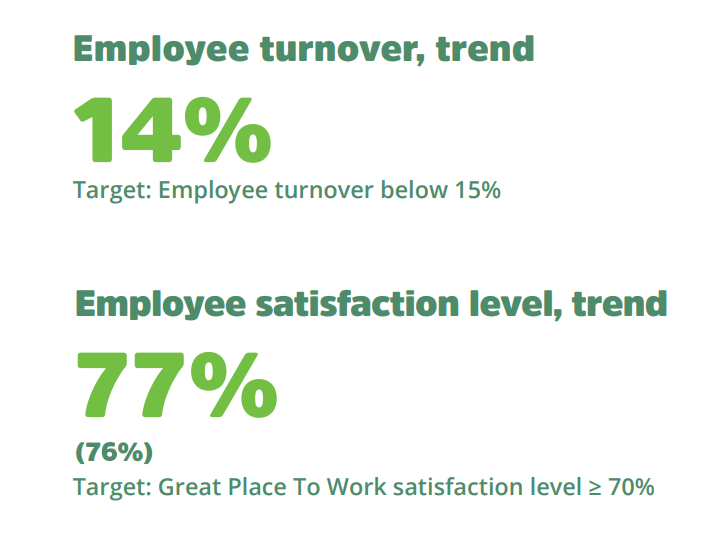 A culture of belonging makes Musti Group a great employer
At Musti Group, we all care deeply for animals and each other, and we want to see our employees grow into thriving experts. Juliane Lerøy, who works at several Musti stores in Bergen, Norway, says that every day is different at Musti. As a dog owner herself, Lerøy appreciates constantly learning new things and improving as an expert in pet services.
"It's exciting to meet different people with the same interests as you. We all share a mutual passion for animals, so you get to learn a lot from the customers, too."
Lerøy has previous experience from several retail employers, and she feels that Musti succeeds exceptionally well in fostering a culture of belonging and well-being.
"There is a sense of being there for each other. Management is always nearby and reaching out to the stores, so we know everybody. It's very different from some other retail stores that are not as personal," Lerøy says.
Taking care of our own pack during exceptional times
Under the exceptional COVID-19 circumstances, Musti Group has strived to provide unified communication and clear practices for day-to-day work. The way that the pandemic has been handled at stores has also been reflected in the internal Pulse surveys performed on a very regular basis.
"During the COVID-19 pandemic, our top priority has been to keep our staff and customers safe. This has been a difficult time for everyone, so we are especially proud of this year's GPTW results (December 2020) and the feedback we have received from our staff about the way we have handled Corona-related tasks inside Musti Group," says Musti Group's HR Director Nanna Martin-Löf.
The results of our pulse surveys show that our employees think that we acted quickly and have been very clear and active in our communication regarding restrictions and safety guidance, for instance. They say that they feel safe, trusted, appreciated and that we care about those out in the field.
"Our store staff are our heroes, working in the stores every day, delivering high-quality customer support under these very exceptional circumstances," Nanna Martin-Löf states.
According to Juliane Lerøy, Musti Group has been active in informing store personnel about changes. After more than a year of COVID-19 restrictions, uniform practices between stores make collaboration between stores easier.
"Everyone is supportive of each other. The stores also always help each other out, so no store is alone. We are one big team," Lerøy says.